Integrity Print Resource, Inc.
1220 S 356th
Suite A-5
Federal Way, WA 98003

(800) 467-7208
Fax (253) 952-3871
Seattle: (253) 661-5755
Tacoma: (253) 925-2262




Every year U.S. companies spend millions of dollars marketing existing products and services, introducing new business concepts to the marketplace and communicating with internal or external customers. Tried-and-true methods include printed materials, direct mail, promotions, newsletters and in certain instances, media advertising. The method of choice is typically judged to have the broadest appeal and the fewest limitations.

Today, there is an alternative to traditional marketing methods that allows extensive creative flexibility, has universal appeal, captures attention and will not break your budget, it is the CD Business Card

The CD Business Card is a rectangular shaped, business card size CD-ROM that can be played on standard CD or DVD players. Available in 30, 40 or 60-MB, the CD Business Card has ample data capacity to carry text, text and graphics or full-blown multi-media presentations. Plus, even with a protective sleeve, the CD Business Card weighs less than 1/2 ounce making it easy to carry and ideal for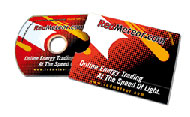 mailing.



Marketing Applications
Annual Reports
Business Cards
Manuals
Interactive Applications

Sales Presentations
Catalogs
Electronic Documents
Human Resource
Applications
Interactive Presentations

Sometimes referred to as "the compact impact," CD Business Card's storage capacity and allowance for creative diversity is unsurpassed by traditional marketing methods. And, Integrity Print Resource, Inc. will work with you to "turn-key" the entire project regardless of the complexity of your creative content. From conception to delivery, Integrity Print Resource, Inc. provides single-source, total project management.